Drops of Gold

, you might remember that Layton and his daughter celebrate Twelfth Night together.)

Let me explain. No, it's too long. Let me sum up.

(Can you name the movie that line comes from?!?)

According to

The

Shorter Oxford English Dictionary

, Twelfth Night is "the evening of the fifth of January, preceding Twelfth Day, [Twelfth Night is also known as] the eve of the Epiphany, formerly the last day of the Christmas festivities and observed as a time of merrymaking."


Twelfth Night is celebrated with a feast--one reason why I like it so very, very much. At our house we create a menu of traditional British cuisine. This year?

<---Toad-in-the-Hole (sort of like Yorkshire pudding with sausage and onion and gravy) Bangers and Mash ---> (more sausage--are you noticing a pattern--served with mashed potatoes.)
Yum!!



Wassail is consumed in massive quantities. Some traditions include wassailing apple trees to bring a good harvest in the coming year. This involved soaking bread in wassail and flinging it up into the branches. We're skipping that part: 1. No apple trees. 2. I would feel stupid.



A Twelfth-cake or Kings cake ---> is served with a bean baked into it, and whomever finds the bean is crowned king or queen for the night and is given the right to dictate the evening's festivities. My kids are desperately hoping to find the bean this year. (And, no, our cake won't be this fancy. I don't have that much skill, or patience, or time.)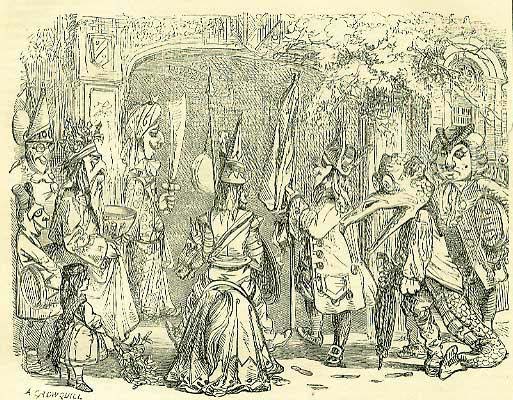 Twelfth Night celebrations included Mummers' Plays performed by traveling groups of "mummers." They were generally masked and often performed in pantomime. My kids have prepared their mummers' masks and are working out their performances even as I type this.

Twelfth Night was all about merrymaking. It marked the end of the Christmas season and the last opportunity for holiday revelry. There will be music and dancing and silliness at the Eden household.



Ah, I love Twelfth Night!